Ultimate Wedding Wine and Champagne Guide

August 31, 2022 | Features | Taylor Simpson
Ultimate Wedding Wine and Champagne Guide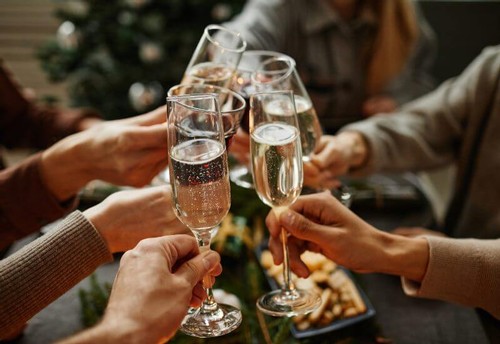 When you think about drinking wine at a wedding, what immediately comes to mind? If you're like most people, it's probably champagne, because a champagne toast is an elegant moment at any wedding. There are plenty of other wedding wine options to consider, though, and even champagne comes in such a variety of options you almost need a champagne guide to help you decide.
Which wines will you serve at your wedding? How do you choose a variety of wines your guests will enjoy without breaking your budget? Here, we offer a guide to wedding wine to help you begin to answer all the questions you probably have.
The first step in choosing what kinds and how much wine and champagne you'll need is to decide if you'll be serving other beverages as well. Some guests like to provide their guests with an open or cash bar, serving wine, beer, and mixed drinks, while other weddings feature kegs of beer as well as wine. Consider your full drink menu before ordering wine, and order generously if wine is the only drink on the menu. You'll then need to consider how many people will be drinking, and how long they're likely to stay at the reception. It's better to order too much wine than too little, because you can always take leftover bottles home to drink or give as gifts. However, it's also wise to consider all the other things that need to come out of your wedding budget.
One good rule of thumb is to allot about 15 percent of your reception budget to wine and champagne.
You'll also want to consider a few other factors. Do you plan to serve wine during dinner or throughout the entire reception? When will the wedding take place? If the reception is during the day or on a weekday, people are likely to drink less wine than they would at an evening or weekend wedding.
Location matters, too, because if your reception is being held at the hotel where many guests are staying, they're likely to drink more than if they had to drive home. Similarly, if your wedding reception is at a winery, people are likely to drink more than at another venue. If you're hiring a bartender, you will probably need less wine than if your guests are serving themselves.
Once you've considered all of these things, decide how many bottles you'll need, understanding that a standard bottle will yield four or five glasses of wine. According to wedding planners, adults at a reception typically drink one glass of wine per hour. Determine how many hours your wedding will last, multiply that number by the number of guests who are of legal drinking age, and divide that by four to determine how many bottles you'll need. Then add some extra bottles, just to give yourself some room for error, so that you don't run out of wine.
What kind of wine should you buy? It's customary to serve at least one white and one red wine, splitting the total 50/50 between your red and white varietals. Of course, you can tweak this if you know your guests will prefer one type over another, or you can match your wine to the season. Refreshing white wines and rosé are perfect for summer weddings, while more substantial reds are a favorite in the fall and winter.
Here are some popular options for wedding wine:
Whites:
Sauvignon Blanc is a light, crisp option that goes well with cheese, chicken, seafood, and vegetables and is appropriate in every season.
Pinot Gris/Pinot Grigio are the French and Italian versions of similar wines. Firm and nuanced, this type of wine is good with chicken, shellfish, and pasta.
Chardonnay is a rich white wine with an intense fruit flavor and smooth texture, and it pairs well with vegetables, white fish, shellfish, chicken, pork, and veal.
Riesling is a versatile white wine that's crisp and aromatic and ranges from very dry to very sweet. You'll want to taste a few different brands before you decide on a Riesling, but this wine goes well with just about any food.
Reds:
Cabernet Sauvignon is rich with flavors of dark fruit, and this full-bodied wine goes well with hearty dishes like beef, duck, rich sauces, and marinades.
Pinot Noir is a silky wine that has flavors like berries, cherries, plums, violets, and warming spices, and it goes well with hors d oeuvres, roast chicken, duck, lamb, hearty fish, and pork.
Shiraz and Syrah are two different names for an earthy, fruity wine with dark fruit and herb notes, good for pairing with red meats, pork, lamb, grilled meats, and game.
Zinfandel is primarily an American wine, intensely flavored with a high alcohol content. It goes well with spicy foods, grilled meats, red meat, and barbecue.
Grenache has a light color but a medium-to-full flavor profile, and is good with red meat, lamb, chicken, and vegetables.
Sangiovese has a fresh cherry flavor with herbal accents and goes well with chicken, red meat, mushrooms, and tomato sauce dishes.
Champagne
You probably already know that sparkling wines are often referred to as "champagne," but a wine is not truly champagne unless it is made in the Champagne region of France. A wedding toast can use any type of sparkling wine, some of which are very delicious and easier on the budget. If you're using sparkling wine exclusively for your celebratory toast, plan on 6 servings per bottle when you're doing your calculations. Of course, if you're serving bubbly throughout the reception, you'll need considerably more of it. Some popular sparkling wines for weddings include:
Blanc de Noir, made primarily of pinot noir grapes, with a heavier body than other sparkling wines, ranges from gold to pink in color.
Blanc de Blanc, which is 100 percent chardonnay derived, with a light, delicate flavor.
Metodo Classico, made in a style very similar to traditional champagne, has a rich body and creamy bubbles.
Prosecco is an Italian sparkling wine that tends to be dry, with a fruity, aromatic flavor.
Cava is produced the same way as champagne, differing only in that it's produced in Spain and is more affordable.
Sparkling Rosé varies in color and flavor, so you'll want to taste a few before deciding on which one to choose.
Champagne comes in varying sweetness levels, which are, from driest to sweetest: extra-brut, brut, extra dry, dry, demi-sec, and doux. Extra brut has no added sugar, while doux can be up to 10 percent sugar.
If you have more questions about wedding wine, or you want to try a new wine or tour a local winery, check out Good Harbor Vineyards. Family owned and operated, Good Harbor Vineyards has been making wine in Northern Michigan for over 40 years. We've got more than 125 acres of prime vineyard land dedicated to producing Riesling, Chardonnay, Pinot Grigio, Gruner Veltliner, and Pinot Noir varietals, along with Merlot, Pinot Blanc, sauvignon Blanc, Zweigelt, Lemberger, and Cabernet Franc. Carefully cultivated, and harvested by our dedicated team, our grapes are then made into the best wine possible, consistently overdelivering for the price.
For more information about our vineyards, the winemaking process, or the Good Harbor Connoisseur Wine Club call 231-256-7165 or come visit us for a tour!
Comments
Commenting has been turned off.
Recent Posts
November 18, 2023

November 16, 2023

November 9, 2023

October 31, 2023

October 30, 2023

October 25, 2023

October 19, 2023

October 2, 2023

September 22, 2023

September 20, 2023
Blog Categories
Blog Archives