Bruce Simpson: The Man Behind Good Harbor Vineyards

June 17, 2022 | Tasting Room | Taylor Simpson
Bruce Simpson: The Man Behind Good Harbor Vineyards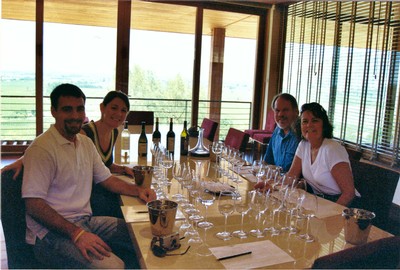 In honor of Father's Day, we wanted to take a look back at the man behind Good Harbor Vineyards, Bruce Simpson. Bruce is the eldest son of John Simpson, the founding father of Harbor Hill Fruit Farms and Good Harbor Vineyards, had an immense love of learning and very much enjoyed the science behind agriculture and winemaking. This came from a childhood of growing up working on the family farm.
He grew up on the Leelanau Peninsula before attending Michigan State University and graduating with a degree in agriculture. After receiving his degree, he took the opportunity to attend the University of California, Davis to learn about viticulture and oenology. When he finished his program in California, Bruce and his wife, Debbie, returned to Northern Michigan to begin their dream of planting vineyards and opening a winery.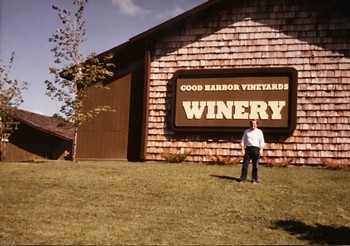 With being one of the founding fathers of the Michigan Wine Industry, Bruce understood the need to help grow it through more than a tasting room. In 1986, Bruce was one of the founding members and creators of Michigan's oldest running wine festival, the Leland Wine & Food Festival. Between running a tasting room and starting the Leland Wine & Food Festival, Bruce was also one of the original members of the Michigan Grape and Wine Council and one of the founding members of the Leelanau Peninsula Vintners Association.
Bruce was a leader in the Michigan wine industry but incredibly humble and modest. Throughout his time spent operating and growing Good Harbor Vineyards, he met with many other business owners to help provide advice and winemaking assistance to help new wineries get started in the business in hopes of growing a flourishing Michigan wine industry. Much like his father, Bruce was a man who loved his family and community. He led by example, displaying kindness to others, maintaining patience and a cool collected demeanor at all times. He worked hard to start, operate, and grow a winery as well continuing to operate a large scale fruit farm, always making sure he took good care of his employees.
Comments
Commenting has been turned off.
Recent Posts
September 20, 2023

September 6, 2023

August 31, 2023

August 24, 2023

August 17, 2023

August 16, 2023

July 25, 2023

July 22, 2023

July 4, 2023

July 3, 2023
Blog Categories
Blog Archives