Getting The Vineyards Ready: Tying
April 24, 2023 | Vine News | Devon Kessler
Getting The Vineyards Ready: Tying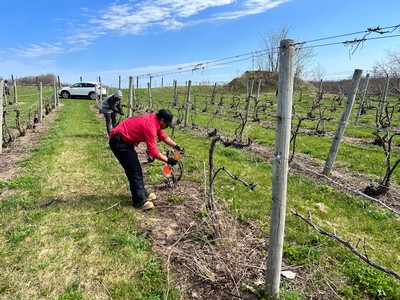 As we near the start of the 2023 growing season, the Harbor Hill Vineyard crew continues to work hard at getting the vines ready. After pruning, comes the tying of the vines. Tying is how viticulturists attach parts of the vine to the trellis also known as the wires. While there are several approaches when it comes to this small, but important vineyard task, some are more efficient than others. Experts say early spring is the best time to tie grapevines before the spring rush of vineyard activity begins.
When you tie a vine to the trellis, you are giving a solid foundation for the shoots to grow upward. Tying also helps the trellis support the weight of the crop at full maturation where the trunk would not be able to do this on its own. "By training the vine in a trellis, you are organizing its growth to maximize sun exposure to the plant to create the most even ripening of the fruit possible," explains Harbor Hill Fruit Farms President and Good Harbor Vineyards Co-Owner Sam Simpson.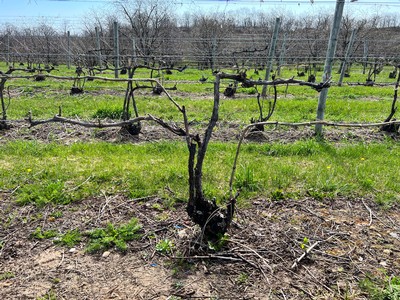 (A fully tied vine in Good Harbor Vineyards' Rick's Vineyard.)
Good Harbor Vineyards is located in a cool climate growing region. Some of the practices of growing and producing wine are different depending whether you are in a cool or warm climate. However, the act of tying is required in almost all vine training systems. In warm climate growing regions, such as parts of South Africa and Australia, vines are treated differently. In these regions, vines grow as a bush and don't require the same infrastructure needed in a cool climate region such as the Leelanau Peninsula.
Throughout the growing season, the Harbor Hill Vineyard crew spends hours maintaining several hundred acres of vineyards. Simpson explains, "we have been able to streamline the practices used in the vineyards so we know how many hours it takes to do every task that is required to keep our vines in tip top shape." It is the meticulous attention to detail that allows our vineyards to grow and produce high quality fruit.
In an effort to operate in an eco-friendly manner, Good Harbor uses biodegradable twist ties when tying the vines to the trellis. This allows the ties to decompose in the vineyard after the growing season is complete.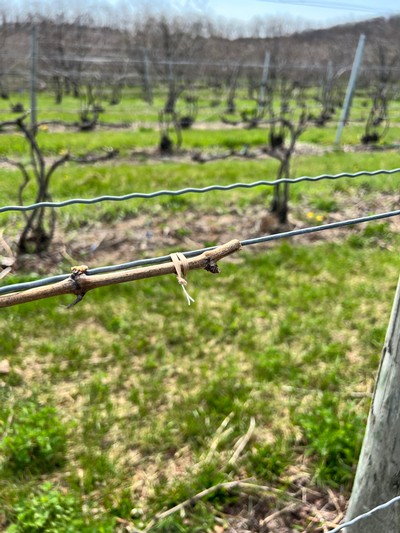 (This photo shows one of the ties the Harbor Hill vineyard crew uses in the Good Harbor vineyards.)
Comments
Recent Posts
November 18, 2023

November 16, 2023

November 9, 2023

October 31, 2023

October 30, 2023

October 25, 2023

October 19, 2023

October 2, 2023

September 22, 2023

September 20, 2023
Blog Categories
Blog Archives