Good Harbor's Pinot Grigio Makes "Top Pinot Grigios" List Second Year in a Row
September 22, 2023 | Features, Product Updates, Tasting Room, White Wines | Devon Kessler
Good Harbor's Pinot Grigio Makes "Top Pinot Grigios" List Second Year in a Row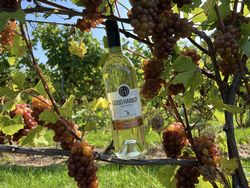 For the second year in a row, Good Harbor Vineyards' Pinot Grigio has been named to "The 15 Best Pinot Grigios for 2023" list for VinePair. It also received a rating of 90 points. We had the honor of making this list for the first time in 2022 with our 2021 vintage of the delicious variety.
In his review of the 2022 Pinot Grigio, VinePair Executive Tastings Director Keith Beavers describes it as being "very unique, with a ripe nose that pops with a hint of spearmint.The palate is juicy and round with quenching acidity." He goes on to say that we are doing a great job with representing the cool-climate whites of Michigan.
The grape variety Pinot Grigio thrives in our cool climate on the Leelanau Peninsula. It is one of the four delicious varieties that make up the Pinot family. In the state of Michigan, Good Harbor Vineyards has one of the largest plantings of Pinot Grigio. Due to our vineyard team cropping our fruit at a low tonnage per acre, we're able to attribute to the rich intense fruit flavors the wine possesses.
The 2022 Pinot Grigio has ripe pear and lemon rind aromas on the nose when smelling the first few swirls in the glass. The longer you linger, you will be able to pick up hints of mineral components from the vineyard soil. The rich, creamy texture of the wine pairs nicely with light pastas, salads, and light meats.
Comments
Recent Posts
November 18, 2023

November 16, 2023

November 9, 2023

October 31, 2023

October 30, 2023

October 25, 2023

October 19, 2023

October 2, 2023

September 22, 2023

September 20, 2023
Blog Categories
Blog Archives