Blog

Get news from the vine and read about the happenings on the Leelanau Peninsula!
By MYNORTH NEWS SERVICE on March 30, 2021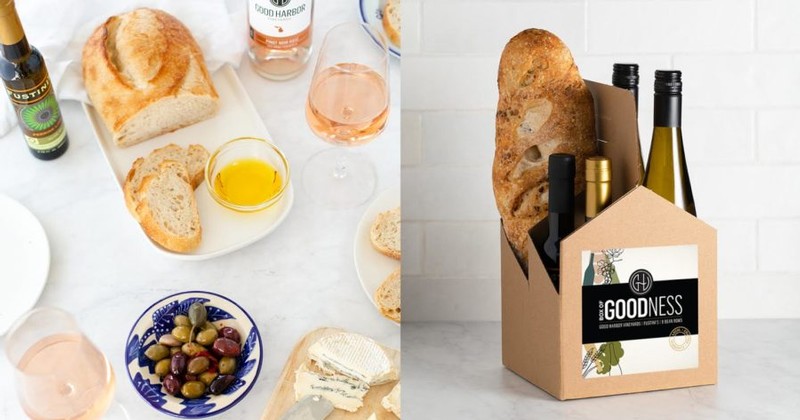 Good Harbor Vineyards has teamed up with local 9 Bean Rows Bakery and Fustini's Olive Oil and Vinegar to create a one-of-a-kind offering. Referred to as the Box of GOODness, Good Harbor wanted to give customers a convenient way to enjoy the local goods of the area with unique pairings to excite their palates. Over the course of the winter, the three local businesses worked together to create pairings that complement one another and offer the consumer a variety of ways in which to enjoy the pairings.
As a result of the pandemic, many people have been forced to cook more and have taken a greater interest in food and wine pairings. "We wanted to highlight different local wine and food pairings that are healthy, wholesome, and make it convenient for people to pick up or have shipped directly to their door," says Taylor Simpson, co-owner of Good Harbor Vineyards.
"Wine, bread, olive oil and vinegar are staples in most households, but enjoying the custom curations offered in the Box of GOODness helps keep your palate engaged and excited."
The Good Harbor Box of GOODness will be available for pick up or to ship two times per month May through August and will include the following: 2 (750ml) bottles of Good Harbor wine, 1 fresh custom loaf of 9 Bean Rows artisanal bread, 1 (200ml) bottle of Fustini's olive oil, 1 (200ml) bottle of Fustini's Vinegar, 1 custom recipe card complements of Fustini's. The recipe has been meticulously selected to pair with wine included in the shipment. Customers can enjoy the olive oil and vinegar combination for dipping with the bread and then can use the remaining amount to make a meal and enjoy at their convenience.
For further details about the Good Harbor Box of GOODness, customers can visit the Good Harbor website. "We hope people will enjoy the collaboration between these local businesses and share the pairings with their friends and families throughout the summer," Simpson says.
Learn how to log into your account to customize your Good Harbor Vineyards Connoisseur Club wine shipment with the helpful video and frequently asked questions below. Our Winemaker pre-selects 6 bottles on your behalf every April and September from our diverse collection of Good Harbor Vineyards wine. These selections typically include exclusive, pre-released wines, just for our club members.
We recognize everyone has their favorite wines, so you can customize your shipment by logging into your account. It's also a great time to update your credit card information or shipping address. For members who do not make changes to their shipment by the deadline, the Winemaker's selections will be charged to the credit card on file and shipped to the address in our records.
KEY DATES: 2021 APRIL CLUB SHIPMENT
22 March - Club shipment open for customization
4 April - Deadline to make wine selections
5 April - Credit cards charged
9 April - Tasting room pickups may begin; Wine shipments begin

FREQUENTLY ASKED QUESTIONS
We know it's been awhile since you've logged into your account. Here are some frequently asked questions to help you get your shipment customized and account updated in no time:
HOW DO I LOGIN TO MY ACCOUNT?
Select, "Customize Shipment" from the top menu. Scroll down to see the member login area. Enter your username or email and password to login to your account.
I FORGOT MY PASSWORD. NOW WHAT?
Click on "Log In" in the upper right hand corner of the website.
Select the "forgot password" option to be redirected to reset your password.
HOW DO I CHANGE MY WINE SELECTIONS?
To customize your shipment and add wine to your order, please follow the these instructions:
Select "Customize Shipment" from the menu bar on the top of the website.
Login with your username or email and password.
If you don't remember your login credentials, please select the "Forgot Your Username and Password" option to be redirected to reset your password.
Login to your account with your new password.
Select "Choose Wines."
Our Winemaker has pre-selected two bottles of three unique wines. If you wish to make changes to your order, simply modify the quantity for each bottle.
Confirm billing information, payment method and delivery or pick up preference, then click "submit".
I MADE A MISTAKE ON MY CLUB ORDER. WHAT DO I DO?
No worries. Simply log back into your account and make a change, following the instructions above. You have until the announced deadline to make changes to your club shipment order.
HOW DO I REMOVE THE WINEMAKER'S SELECTIONS?
To either remove or modify the Winemaker's selections from your club order, simply change the quantity to "0" for each bottle to remove completely, or replace the default quantity with your desired quantity. You can track how many bottles you've selected by returning to the top of the page and reviewing the "Estimated Subtotal" and the number of "bottles selected will update as you make changes to the bottle quantities in your order form.
CAN I CHANGE MY SHIPPING ADDRESS OR SWITCH TO PICKUP?
Yes! But please note, someone aged 21 or older needs to sign for the wine shipment. If you need to change your Wine Club order preference from pickup to shipping, or vice versa, please follow the instructions above to "Customize Shipment" and make the change under "Delivery or Pickup Information" at the bottom of the page. Select from a drop-down menu of shipping to your:
"Billing Address"
"New Shipping Address"
Or select, "Pickup at Winery."
Then hit "submit" to make the change.
WHAT IF I CAN'T BE HOME FOR THE DELIVERY? CAN YOU SHIP TO MY WORK?
Yes! If possible, Good Harbor recommends shipping to a business address for prompt delivery. UPS cannot deliver wine to PO boxes, nor will UPS leave packages on the doorstop. All shipments must be signed for by someone 21 years or older.
WHAT HAPPENS IF I MISS THE DELIVERY AND THE PACKAGE IS RETURNED TO THE WINERY?
UPS will attempt to deliver the package three times. After the third failed attempt, the order will be returned to the winery. You have the option to have the package held for pickup or reshipped for an additional fee.
WE ARE HERE TO HELP
If you are having problems customizing your club shipment or editing your profile after reviewing these frequently asked questions, please call the tasting room and we will gladly assist you.
Thank you for supporting Good Harbor Vineyards and we hope you'll enjoy your wine club shipment.
We were thrilled to welcome back the Channel 9 & 10 team for their weekly Brewvine series. Watch as we give them a tour of our property, introduce our new releases and share how COVID19 has impacted our business.
Recent Posts
March 31, 2021

March 30, 2021

March 18, 2021

July 17, 2020
Blog Categories
Blog Archives